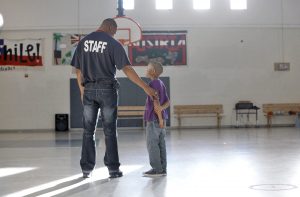 On Thursday, September 16th, families that need access to computers or an internet connection to sign up their children in our much-loved basketball program, can visit the Railroad Clubhouse from 5:30 – 7 pm.  The Club will have tablets and computers available for parents to fill out the application and even request a scholarship to help pay for membership.  As the Boys & Girls Clubs of Mid Central Coast moves to managing as much as possible through their website in order to be as efficient as possible in managing 13 club sites and serving 1000's of children, we understand that not all families are comfortable with online processes and want to make sure our services are as accessible as possible to as many people as possible.  
Staff who speak both Spanish and English will be on hand to help and the applications are available in both languages as well.  Social distancing and safety protocols will be followed and anyone who enters the Clubhouse will have a health screening and will be required to wear a mask.  
For questions about the Basketball program or about the on-site sign up, contact Ernie Cuevas [email protected] Director of Healthy Lifestyles.