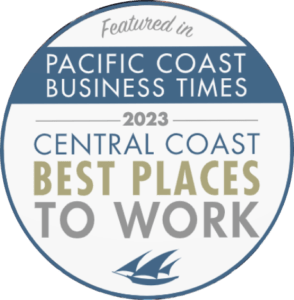 The Boys & Girls Clubs of Mid Central Coast is thrilled to announce that it has been voted one of the "Best Place to Work" in the Tri-Counties by the prestigious Pacific Business Times. This recognition is a testament to the organization's commitment to fostering a supportive and fulfilling work environment for its dedicated employees.
The Pacific Business Times, a leading business publication renowned for its insightful analysis and industry rankings, conducted an extensive survey to identify the region's most outstanding workplaces. After a rigorous evaluation process, the Boys & Girls Clubs of Mid Central Coast emerged in the top 30 rankings with an overall score of 94.8 out of 100, standing out among numerous exceptional organizations.  Boys & Girls Clubs of Mid Central Coast was only one of two businesses based in Santa Maria to be in the top 30.  
"We are incredibly honored to be recognized as a Best Place to Work by the Pacific Business Times," said Michael Boyer, CEO of the Boys & Girls Clubs of Mid Central Coast. "This achievement is a testament to our unwavering dedication to creating a workplace culture that empowers our employees and values their contributions. We firmly believe that happy and motivated staff members are instrumental in delivering quality programs and services to the youth we serve.  We live our core values daily in our work."
The Boys & Girls Clubs of Mid Central Coast places great emphasis on cultivating a positive and inclusive work environment. From competitive compensation packages and ongoing professional development opportunities to a strong focus on work-life balance, the organization actively supports its employees' personal and career growth. Additionally, the Clubs promote collaboration, teamwork, and open communication, fostering a sense of camaraderie among the staff.  Their core values are summarized as ICARE–Integrity, Collaboration, Accountability, Respect and Excellence.  
"The success of our organization is directly linked to the passion, expertise, and commitment of our team," added Meghan Harris, Chief Operating Officer. "We strive to provide them with the resources and support they need to thrive, enabling them to make a lasting impact on the lives of the young people we serve. This recognition validates our efforts and motivates us to continue creating an exceptional workplace for our staff."
The Boys & Girls Clubs of Mid Central Coast has been an integral part of the community since 1966, empowering children and teenagers to reach their full potential through a range of educational, recreational, and mentoring programs. This latest accolade further solidifies their reputation as not only a leader in youth development but also an exemplary employer.